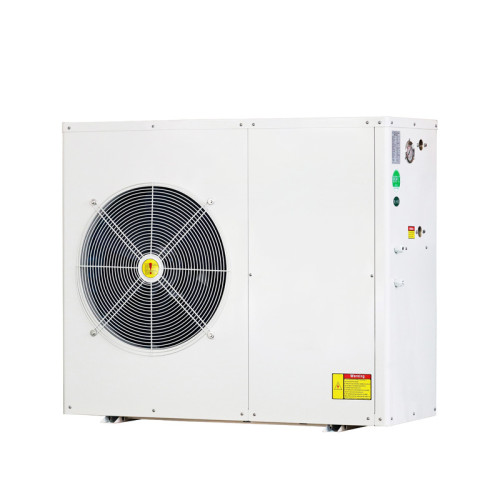 12.3kW 3-Phase House heating + hot water heat pump
Item specifics
Type

air water heat pump
Use

House heating
Brand Name

suoher
Description
1. Air to water heat pumps for house heating and hot water.
2. 3 modes: heating only, heating and hot water, hot water only.
3. With control for 3-way valve to switch between heating circuit and hot watercircuit.
4. LCD controller with heating curves.
5. Receives ON/OFF signal from room thermostat, master controller and smart grill, to savemore energy.
6. R410a refrigerant with Copeland scroll compressors.
7. Electronic expansion valve.
8. Low noise design, with compressor noise jacket, compressor noise cover, and lownoise fans.
9. With control for back-up electric heater.
10. Crankcase heater for compressor.
11. Heater for bottom plate.
12. We offer OEM services including controller functions, 3-way valve, electricheater, circulating pump, casing design, painting color etc.

| | | | | |
| --- | --- | --- | --- | --- |
| Model |   | SHAW-09FM1 | SHAW-12FM1 | SHAW-12FM3 |
| Power Supply | V/Ph/Hz | 220V/1/50HZ | 220V/1/50HZ | 380V/3/50HZ |
| Heating Capacity (A7/W35) | KW | 9.57 | 12.32 | 12.32 |
| Power Input (A7/W35) | KW | 2.39 | 3.11 | 3.11 |
| COP(A7/W35) |   | 4.00 | 3.90 | 3.90 |
| Heating Capacity (A7/W45) | KW | 9.33 | 12.02 | 12.02 |
| Power Input (A7/W45) | KW | 2.78 | 3.47 | 3.47 |
| COP(A7/W45) |   | 3.35 | 3.46 | 3.46 |
| Heating Capacity (A7/W55) | KW | 9.02 | 11.44 | 11.44 |
| Power Input (A7/W55) | KW | 3.45 | 4.22 | 4.22 |
| COP(A7/W55) |   | 2.61 | 2.71 | 2.71 |
| Heating Capacity (A2/W35) | KW | 8.46 | 10.49 | 10.49 |
| Power Input (A2/W35) | KW | 2.33 | 2.98 | 2.98 |
| COP(A2/W35) |   | 3.63 | 3.52 | 3.52 |
| Heating Capacity (A-7/W35) | KW | 6.1 | 7.8 | 7.8 |
| Power Input (A-7/W35) | KW | 2.32 | 3.25 | 3.25 |
| COP(A-7/W35) |   | 2.6 | 2.4 | 2.4 |
| Heating Capacity (A-7/W55) | KW | 6 | 7.6 | 7.6 |
| Power Input (A-7/W55) | KW | 3.41 | 4.47 | 4.47 |
| COP(A-7/W55) |   | 1.75 | 1.7 | 1.7 |
| Heating Capacity (A20/W15~55) | KW | 11.2 | 14.8 | 14.8 |
| Power Input (A20/W15~55) | KW | 2.67 | 3.6 | 3.6 |
| COP(A20/W15~55) |   | 4.2 | 4.11 | 4.11 |
| Compressor |   | Rotary | COPELAND Scroll | COPELAND Scroll |
| Refrigerant |   | R410A | R410A | R410A |
| Condenser |   | tube-in-shell | tube-in-shell | tube-in-shell |
| Evaporator |   | Hydrophilic fin-tube | Hydrophilic fin-tube | Hydrophilic fin-tube |
| Evaporator size |   | double-row | double-row | double-row |
| Throttling device |   | EEV | EEV | EEV |
| Max. Water Outlet Temp. | DegC | 55 | 55 | 55 |
| Water Connection | mm | DN25 | DN25 | DN25 |
| Fan Quantity |   | 1 | 1 | 1 |
| Modular Control |   | Yes | Yes | Yes |
| Noice | dBA | ≤48 | ≤50 | ≤55 |
| Net weight | Kg | 115 | 120 | 120 |
| Net Dimension | H×W×D mm | 1120*430*950 | 1120*430*950 | 1120*430*950 |