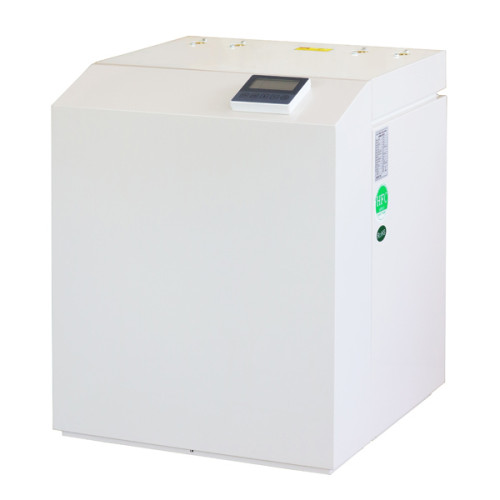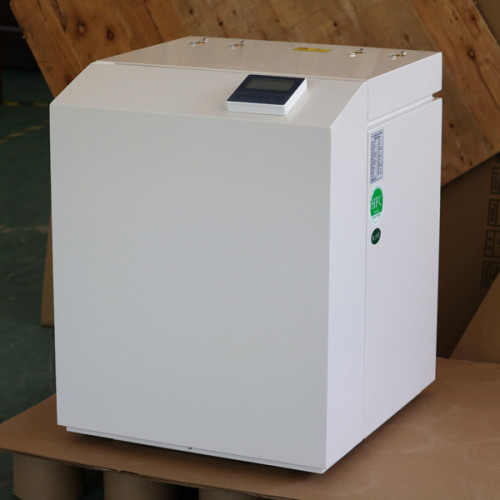 6KW, 9KW, 10KW Geothermal/ground source heat pumps heating/cooling/hot water
Description
1. New design, new visible screws outside.
2. Heating/cooling and hot water.
3. All casing panels are easy to remove for maintenance.
4. Low noise design, the compressor system is isolated from bottom plate with softrubber mounts.
5. Noise jacket for compressor.
6. Pinvalve is easily accessible for maintenance.
7. With water flow switch.
8. With drain pipes for heat exchangers.
9. Tube-in-shellheat exchangers for heating only units and plate heat exchangers forheating/cooling units.
10. Can work with room thermostat, master controller, or smart grill signal.
11. Built-in Energy Class A circulating pump as standard.
12. We offer OEM/ODM service.
Model

SHWW-6FM1

SHWW-9FM1

SHWW-10FM1

Heating capacity W10/W35 (1)

KW

6.40

9.10

10.20

Heating power input W10/W35

KW

1.37

1.94

2.18

COP W10/W35

 

4.67

4.69

4.68

Heating capacity W10/W55 (2)

KW

5.70

8.10

9.08

Heating power input W10/W55

KW

1.81

2.56

2.88

COP W10/W55

 

3.15

3.16

3.15

Heating capacity B0/W35 (3)

KW

5.95

8.46

9.49

Heating power input B0/W35

KW

1.38

1.96

2.20

COP B0/W35

 

4.30

4.32

4.31

Heating capacity B0/W55 (4)

KW

4.99

7.10

7.96

Heating power input B0/W55

KW

1.99

2.81

3.16

COP B0/W55

 

2.51

2.52

2.52

Heating capacity B-5/W45 (5)

KW

4.51

6.42

7.19

Heating capacity B-5/W45

KW

1.80

2.55

2.87

COP B-5/W45

 

2.50

2.51

2.51

Heating capacity W15/W35 (6)

KW

7.04

10.01

11.22

Heating power input

KW

1.36

1.92

2.16

COP W15/W35

 

5.19

5.21

5.20

Cooling capacity W30/W7 (7)

KW

5.61

7.97

8.94

Cooling power input W30/W7

KW

1.36

1.92

2.16

EER W30/W7

 

4.13

4.15

4.14

Rated current

A

6.20

8.1

9.3

Max. water temperature

℃

60

60

60

Rated water temperature

℃

55

55

55

Water flow (Heating side)

m3/h

1.00

1.55

1.76

Water flow (ground source side)

m3/h

0.90

1.40

1.60

Water pressure drop

Kpa

22.00

22

22

Noise

dB(A)

40.00

40

40

Water connections

Inch

3/4"

3/4"

3/4"

Compressor

Brand

Hitachi

Hitachi

Sanyo

Type

Rotary

Rotary

Scroll

Quantity

1

1

1

Power supply

V/Ph/Hz

220/1/50

220/1/50

220/1/50

Refrigerant

/

R410a

R410a

R410a

Condenser

 

Plate type

Plate type

Plate type

Evaporator

 

Plate type

Plate type

Plate type

Circulation pump (Heating side)

/

Energy Class-A pump

Energy Class-A pump

Energy Class-A pump

Water flow switch (Heating side)

 

Paddle type

Paddle type

Paddle type

Water flow switch (Ground source side)

 

Paddle type

Paddle type

Paddle type

Net weight

kg

60.00

66

73

Gross weight

kg

75.00

81

88

Net dimensions

mm

540*540*714

540*540*714


540*540*714


Packing dimensions

mm

600*600*870

600*600*870


600*600*870